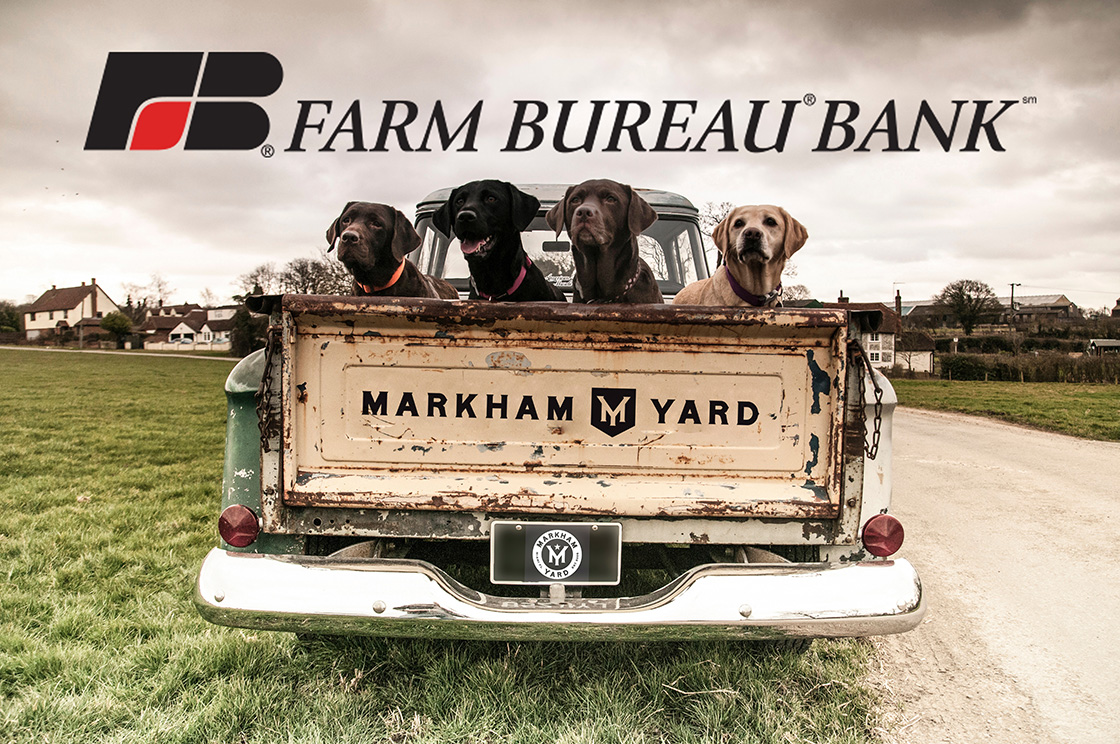 Markham Yard Grows Roots with Farm Bureau Bank.
Farm Bureau Bank selects Markham Yard as Agency of Record after national competitive review.
SAN ANTONIO TX August 23, 2023
Farm Bureau Bank has selected Markham Yard to lead its integrated branding and marketing efforts after a national competitive review among undisclosed participants.
Farm Bureau Bank provides digitally focused banking solutions to Farm Bureau members and their communities in over 44 states. Banking products and services include checking accounts, auto loans, and credit cards, as well as business and commercial services.
"We are thrilled to welcome Markham Yard as our Agency of Record," said Will Hileman, Farm Bureau Bank's President and CEO. "We need meaningful, unique ideas that will resonate with our audience – messages that will show our current and future clients that we are a Bank that truly understands their needs. Markham Yard offers a refreshing approach, and we look forward to the positive impact this partnership will bring to our Farm Bureau family."
Brand campaign work will take a multimedia approach and cross every consumer touchpoint, including engaging internal and partner audiences.
"The Farm Bureau Bank partnership is an amazing opportunity," said Markham Cronin, Founder and Chief Creative Officer of Markham Yard. "They know that it takes great creative solutions to disrupt and break through the industry. And we have the unique ability to leverage our extensive experience in this increasingly competitive financial sector and approach untapped and underutilized markets with our core philosophy: that great work creates the ultimate unfair advantage. We look forward to being in the forefront of this exciting new chapter for Farm Bureau Bank as we work together to advance their mission."
New Farm Bureau Bank brand campaign work will break in Q4.
INQUIRIES:
ABOUT MARKHAM YARD, LLC:
Established in 2005, Miami-based, Markham Yard (MarkhamYard.com) is a full-service advertising agency offering big brand thinking, strategy, design and creative in a concentrated form for both local and international clients. With eighteen years of experience with global clients across an array of industries, Markham Yard offers the creative power of big agencies in a streamlined and nimble form. Clients include: BurgerFi, Children's Hospital of Richmond Foundation, Anna Griffin, Boyne Capital, Liebherr, Captains for Clean Water, City National Bank, Hell's Bay Boatworks, IT'SUGAR, The New York Blood Center Enterprise, Invincible Boats, Bonefish & Tarpon Trust, the Miami Herbert Business School, Breakthrough Miami, Herman Lucerne Memorial Foundation, and Yellowfin.
ABOUT FARM BUREAU BANK:
Since 1999, Farm Bureau Bank has offered banking solutions specifically tailored for Farm Bureaus and their members in 44 states across the U.S. For more information about Farm Bureau Bank, please visit
www.farmbureau.bank
.